7 skincare tips for naturally glowing skin without makeup
IN THIS ARTICLE
Festivals are around the corner and it's time to ensure everything is in place for the upcoming celebration and fun. 
However, prepping for festivities can be extremely hectic, impacting your skin's health and luster. 
And even though you can trust makeup for the coveted festive look, there is nothing like naturally glowing skin that makes you stand out in the crowd, all without any hint of makeup. 
So while you leave no stone unturned to make your house festive-ready, your skin should be 'compliments' ready too. 
Thankfully, to get naturally glowing skin that matches the festival fervor, you only need simple and effective skincare habits that can easily fit into the festive schedule.  
Here are seven skincare tips that can give you healthy, glowing skin that makes you look drop-dead gorgeous without any makeup.  
How to get glowing skin naturally this festive season
1. Having the right
skincare routine
is a battle half-won
Believe it or not, how your skin looks depends significantly on what you feed it. 
Having a dedicated skincare routine is an underrated secret to healthy skin. 
And guess what, you don't need to spend hours in front of the mirror, nor do you need an expensive or complicated fleet of products. 
What you do need is a few simple yet effective skincare steps that ensure your skin is being cared for. 
To start with a skincare routine, identify your skin type to choose products that are suitable for your skin concern and type. 
For instance, if you have uneven skin tone or blemishes or wish to brighten your skin, you can opt for beauty products infused with niacinamide like a niacinamide moisturizer or serum for your routine.
Similarly, if you have acne or blackheads, you can include salicylic acid in your routine; and so on.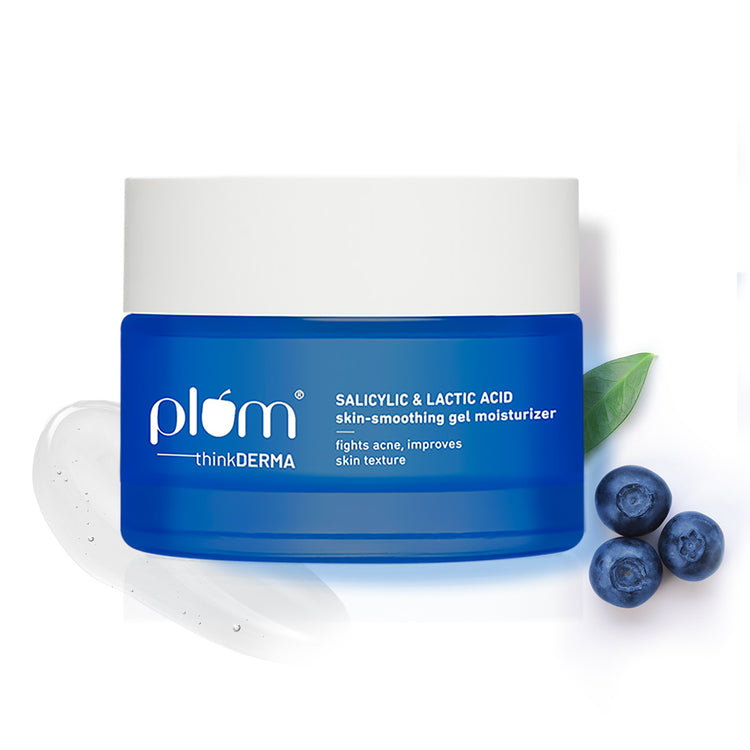 Fights Acne | Improves Skin Texture | Lightweight & Non-Greasy
2. Load up on nourishment
While using a face wash and gentle exfoliator crucial to thoroughly cleanse your skin, adequate hydration can change the entire game.
Ensure that you nourish your skin adequately to prevent dryness that can easily ruin your festive look. 
Invest in a nourishing moisturizer or hydrating serum like hyaluronic acid to deeply nourish your skin. 
For oily and acne-prone skin, you can opt for green tea or niacinamide moisturizer.
For dry skin, oats, ceramides, peptides, and hyaluronic acid are the ingredients to look for. Don't skimp on your skincare even when you're busy with preparations; your skin deserves the attention.
Check out the following winter moisturizers which are loaded with all the good actives and benefits. 
Pro-tip for glowing skin: A day before the festivities, use a sheet mask for hydrated and plump skin. 
3. Importance of night skincare
If you typically skip the night skincare routine, it's time to bring it back into your schedule. Your skin goes into repair and rejuvenation mode at night, absorbing nutrients in a faster better manner.
Ensure that you double-cleanse your skin thoroughly before bed, removing all traces of dirt, oil impurities, and makeup to allow your skin to breathe and rejuvenate overnight. 
Opt for a hydrating night cream or a serum with suitable ingredients that work on your concerns while you sleep. 
Winter festivals also mean chapped lips and reduced sleep. Pamper your lips with a hydrating lip mask and an eye cream so that you wake up with plump and youthful skin.
4. Let vitamin C do wonders
Let us give you a pro tip for glowing skin that rarely fails. 
If you are looking for an instant glow to your face, try vitamin C. It's a powerful antioxidant that brightens your skin, reduces pigmentation, and dark spots, and promotes a more even complexion. 
You can try a vitamin C serum or moisturizer for your daily routine for that extra glow. 
Avoid trying new active ingredients or treatments just a day or two before the festival. If you still have to do so, do a patch test before applying it to your face.
5. Harness the power of sunscreen
Applying sunscreen is non-negotiable, even if it is winter or cloudy outside or you are indoors. 
UV rays can damage your skin, causing pigmentation, tanning, premature aging, and even sunburn.
Use a broad-spectrum sunscreen with SPF 30 or higher to protect your skin from potential sun damage. 
For added benefits, you can use sunscreen with active ingredients like niacinamide and rice water that also work on your blemishes and dark spots, giving you clear, glowing skin before the festivities. 
6. Relook at your vanity case 
Your skin absorbs everything that you feed it and even one wrong product can reflect poorly on your skin's health. 
Cheap, low-quality skincare products can damage your skin barrier, and cause irritation and redness. 
Ensure you're using clean and high-quality products for your skincare. While shopping for beauty products, read the labels, and avoid products with harsh chemicals or fragrances that can irritate your skin. 
Go for gentle, pH-balanced cleansers, alcohol-free toners, and moisturizers that suit your skin type. Keeping it simple and clean can make a huge difference.
7. Step up your lifestyle habits
To have that radiant glow, pay attention to your lifestyle habits. Get a balanced diet, rich in fruits, vegetables, and essential nutrients. 
Similarly, adequate sleep is essential for your skin to repair and rejuvenate. Sleep for at least 6-7 hours each night to avoid dark circles, dullness, and dryness.
Drink at least 8 glasses of water to replenish the moisture in your skin to get plump and glowing skin naturally. 
FAQs
1. How to get glowing skin naturally?
Getting glowing skin is a result of a dedicated skincare routine and following a balanced lifestyle. 
Follow a CTM routine with a cleanser, toner, moisturizer, and sunscreen that suits your skin type.
Exfoliate your skin once a week to remove dead skin and use a face mask. 
Having said that, your lifestyle has a significant impact on your skin. So have a balanced diet, drink plenty of water, sleep for 7-8 hours, and exercise to make your skin healthy and glowing naturally. 
2. Can I use the same skincare products year-round?
While some products are suitable for all seasons like cleanser and toner, you might need to change your moisturizer during winter and opt for heavy creamy moisturizers to combat dryness and dehydration. Similarly, for monsoons and summers, you must switch to light, water-based moisturizers.