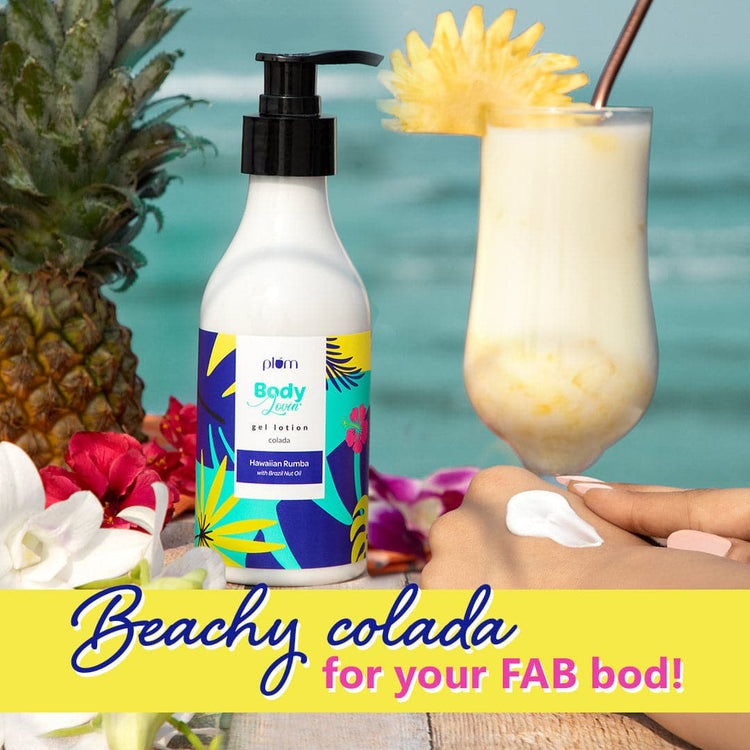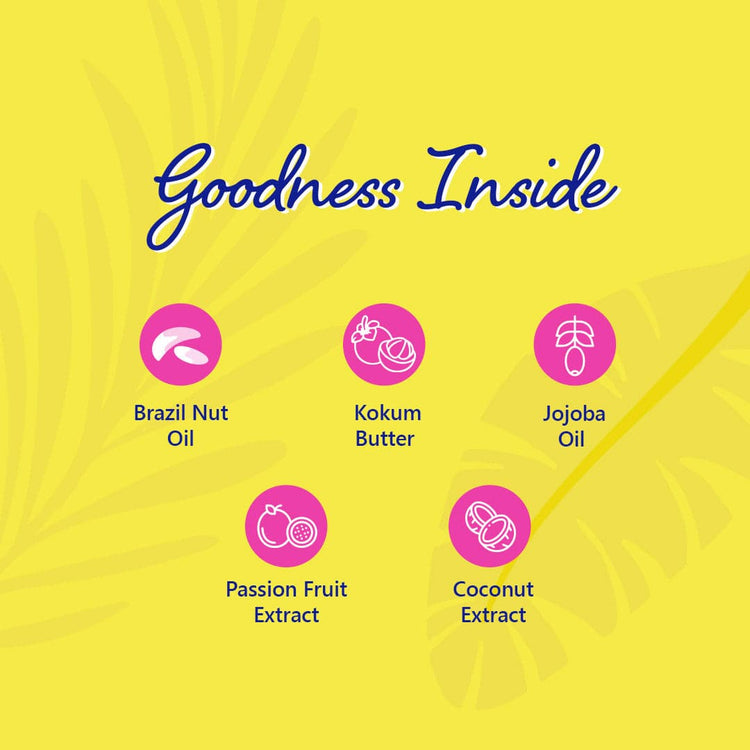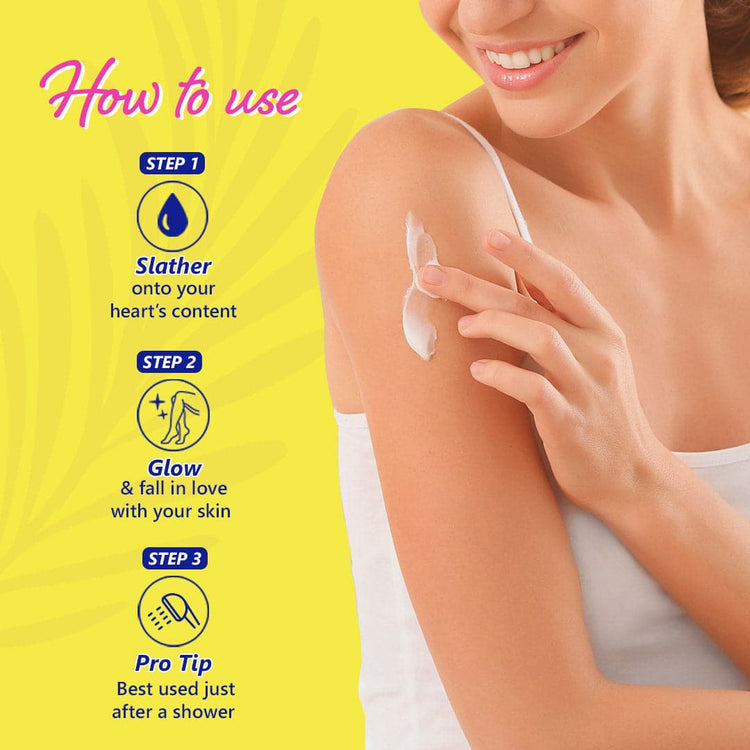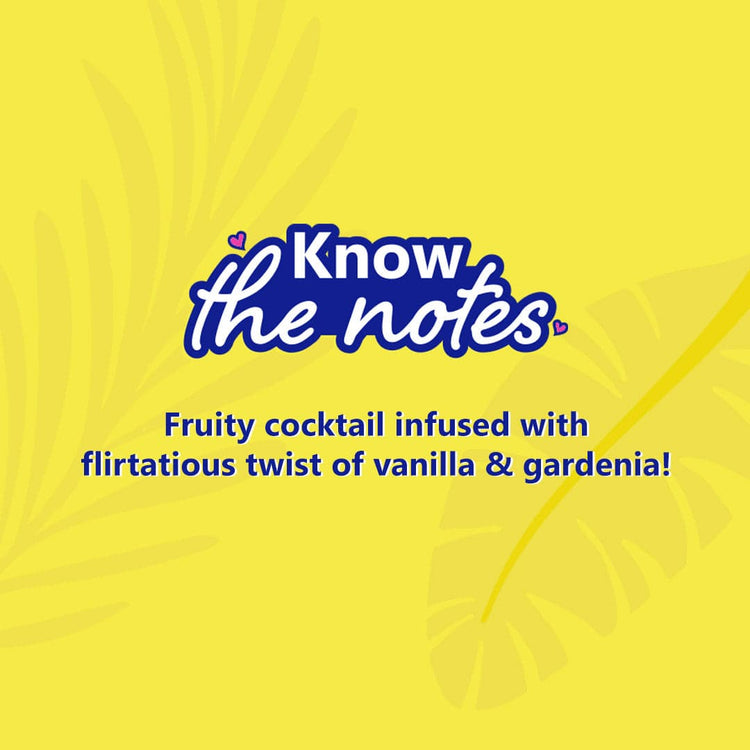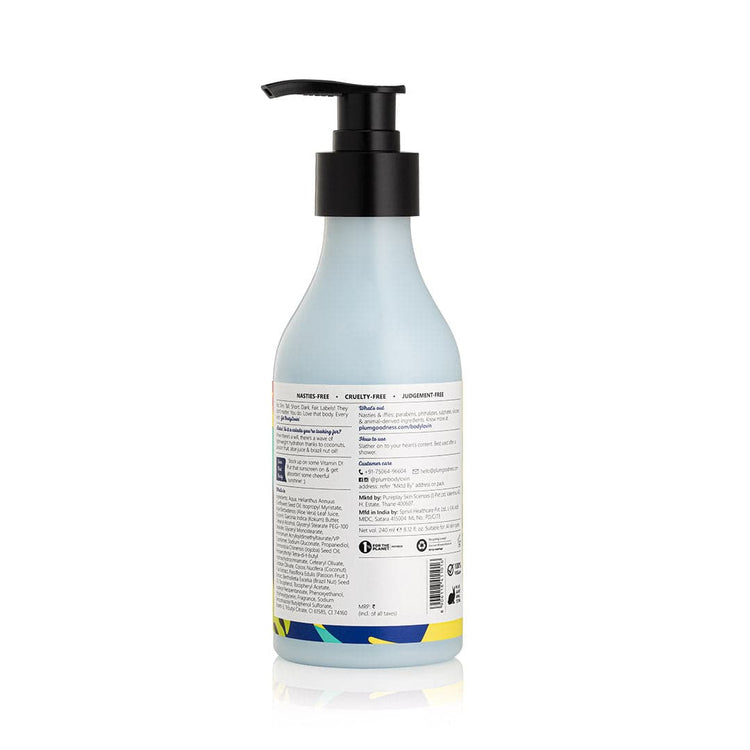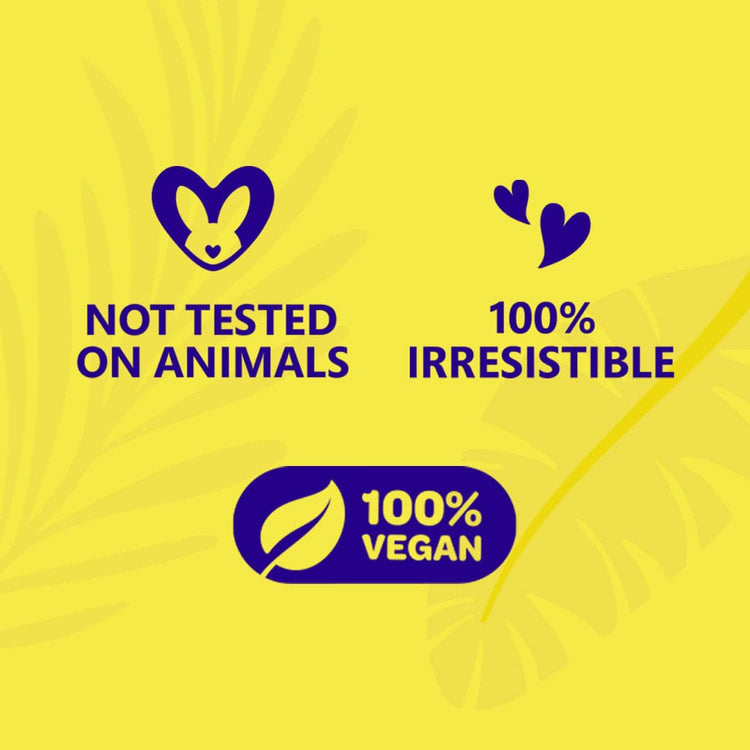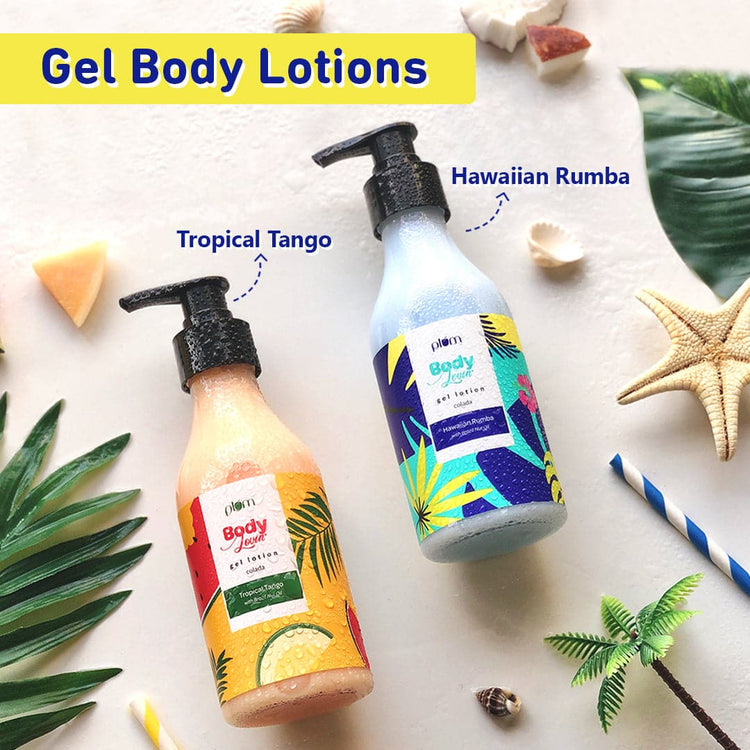 16% off








Plum BodyLovin' Hawaiian Rumba Colada (Gel Body Lotion) | Deep Hydration | All Skin Types | Beachy Fragrance
Moisturizes and Nourishes Skin | Deep Hydration | Beachy Fragrance
Available in: 240 ml
LIGHTWEIGHT HYDRATION: The product is a cocktail of coconuts, passion fruit, aloe vera juice & brazil nut oil that offers lightweight, non-sticky hydration.
NON-GREASY: It is a gel-based product that does not leave a greasy feeling on the skin.
FRESH, BEACHY FRAGRANCE: The product has a dreamy fragrance that can make you feel like you're on vacation.
100% VEGAN: This product is free of any nasties and is fully vegan and cruelty-free.
plum hawaiian rumba body lotion benefits:
- hydrates dry skin
- softens rough patches
- soothes irritated skin
- leaves skin smooth
features of plum hawaiian rumba body lotion :
- beachy, fresh scent
- non-greasy formula
- quick-absorbing unique gel textured lotion
- gentle soothing and moisturizing properties
how to use
apply the gel body lotion generously until you are fully satisfied.
when to use
use hawaiian rumba gel body lotion on clean, dry skin after a shower, or as needed throughout the day
how much to use
use as required
coconut extract
there's nothing quite like a coconut detox when it comes to skin care! thanks to its powerful anti-bacterial, antifungal, and antioxidant properties, this tropical treat is perfect for banishing body acne, reducing inflammation, and soothing irritated skin.
passion fruit extract
this fruit has a distinctive appearance and a sweet and sour flavor that sets it apart. additionally, it contains properties that promote collagen production, which can help maintain a youthful and healthy appearance for your skin. it's truly a fruit to be passionate about! :)
aloe-vera juice
as pure as can be, organic aloe vera juice is extracted from organically cultivated aloe vera plants that have been grown without synthetic fertilizers, pesticides, or genetically modified strains.
Aqua, Helianthus Annuus (Sunflower) Seed Oil, Isopropyl Myristate, Aloe Barbadensis (Aloe Vera) Leaf Juice, Glycerin, Garcinia Indica (Kokum) Butter, Cetearyl Alcohol, Glyceryl Stearate PEG-100 Stearate, Glyceryl Monostearate, Ammonium Acryloyldimethyltaurate/VP Copolymer, Sodium Gluconate, Propanediol, Simmondsia Chinensis (Jojoba) Seed Oil, Pentaerythrityl Tetra-di-t-butyl Hydroxyhydrocinnamate, Cetearyl Olivate, Sorbitan Olivate, Cocos Nucifera (Coconut) Fruit Extract, Passiflora Edulis (Passion Fruit ) Extract, Bertholletia Excelsa (Brazil Nut) Seed Oil, Tocopherol, Tocopheryl Acetate, Isodecyl Neopentanoate, Phenoxyethanol, Ethylhexylglycerin, Fragrance, Sodium Benzotriazolyl Butylphenol Sulfonate, Buteth-3, Tributyl Citrate, CI 61585, CI 74160
What's in
Lush and fragrant
Non greasy, deeply moisturizing and fragrant. Makes me feel fresh. Part of my morning routine :)
Plum BodyLovin' Hawaiian Rumba Colada (Gel Body Lotion) | Deep Hydration | All Skin Types | Beachy Fragrance
Nice product
Good product at better price
Plum BodyLovin' Hawaiian Rumba Colada (Gel Body Lotion) | Deep Hydration | All Skin Types | Beachy Fragrance
What are the benefits of using Plum hawaiian rumba body lotion?
Plum hawaiian rumba body lotion provides deep hydration to the skin and nourishes it with the goodness of natural ingredients like shea butter and aloe vera. This Plum body lotion also helps in improving skin texture and leaving a pleasant fragrance.
Is hawaiian rumba body moisturizer suitable for all skin types?
How often should I use hawaiian rumba moisturizer?
It is recommended to use hawaiian rumba moisturizer daily, preferably after a shower.
can I use hawaiian rumba body lotion on my face?
While it is safe to use hawaiian rumba body lotion on the body, it is not recommended to use it on the face as the ingredients may be too heavy for facial skin.
Is hawaiian rumba body lotion safe to use during pregnancy?
While there is no evidence of harm to using hawaiian rumba body lotion during pregnancy, it is always best to consult with your healthcare provider before using any new product during pregnancy.
How do I apply Plum hawaiian rumba body lotion for best results?
Apply the Plum hawaiian rumba body lotion generously all over the body, focusing on areas that tend to be dry, such as elbows and knees. Massage Plum body moisturizer gently into the skin until it is absorbed fully. Use daily for best results.
Lush and fragrant
Non greasy, deeply moisturizing and fragrant. Makes me feel fresh. Part of my morning routine :)
Plum BodyLovin' Hawaiian Rumba Colada (Gel Body Lotion) | Deep Hydration | All Skin Types | Beachy Fragrance
Nice product
Good product at better price
Plum BodyLovin' Hawaiian Rumba Colada (Gel Body Lotion) | Deep Hydration | All Skin Types | Beachy Fragrance